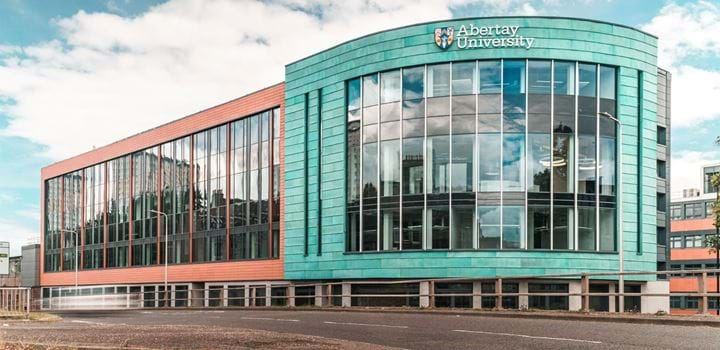 Abertay University in the UK is offering scholarship opportunities for enthusiastic individuals looking to pursue postgraduate studies. The Abertay Scholarship is specifically designed for international students interested in postgraduate degree programs for the academic year 2024. Successful Abertay Scholarship recipients will be granted an award of £3,000. The award is disbursed in equal monthly installments in both January and April, and it will be deducted from the tuition expenses of qualified candidates. Applicants from across the globe are eligible to apply for the Abertay Scholarship.
Scholarship Application Deadlines:
For February entry (Tier 4 visa required): Applications must be submitted by 15 December.
For June entry (Tier 4 visa required): Applications must be submitted by 30 April.
For October entry (Tier 4 visa required): Applications must be submitted by 31 August.
About Abertay University: Abertay University, situated in Dundee, Scotland, United Kingdom, was established in 1994 and has since established itself as a prominent educational institution in the UK. The university is renowned for its commitment to academic excellence and innovative teaching. Abertay University offers scholarships in various academic disciplines, including business, computing, arts, science, and social sciences.
Scholarship Details:
University Name: Abertay University
Course Levels: Masters, PhD, or Postgraduate
Award: £3,000
Access Mode: Online
Nationality: International
Location: United Kingdom
Scholarship Eligibility Criteria: To be eligible for the International Postgraduate Abertay Scholarships, applicants must meet the following criteria:
Proficiency in the English language is essential. Applicants whose first language is not English typically need to provide evidence of their advanced English language skills.
International applicants from all countries around the world are welcome to apply.
Applicants who already hold a UK postgraduate degree are not eligible.
Applicants must be enrolled as full-time postgraduate students for their first degree at Abertay University.
Academic requirements associated with their admission offer must be met to register as full-time students in either September 2024 or January 2025.
To be eligible for postgraduate studies, applicants should possess a GPA of at least 60% and hold a degree that is equivalent to a UK 2:1 Bachelor's degree.
Current postgraduate students at Abertay or Abertay graduates are not eligible for this scholarship.
Scholarship Application Guidelines:
Choose one of the offered degree programs.
Apply for the selected degree program through the official link. Create a new account on the official portal, complete the application form, upload all required documents, and submit your application.
If you meet all requirements and are accepted for study, you will receive an email notifying you about your selection for an Abertay International Scholarship. Keep an eye on your mailbox after receiving your Abertay study offer.
For any inquiries regarding the scholarship, you can contact Doug Watters at international@abertay.ac.uk.
Scholarship Benefits: Recipients of the Abertay University Scholarship will be awarded £3,000, which is disbursed in two equal installments – one in January and the other in April.